Population
330,455 (2016)

Preparation
Visiting corsica was more an accident than a planed tour. I made plans to visit Tunisia. The day before i started the trip i copied some of my documents (like drivers license, passport and other things). The passport i copied last. And i forgot it in the copy machine. I realized it when i arrived at the ferry port in Genoa when the staff asked me for the ferry ticket and the passport.
So i had to find a new destination where i can go without my passport and i decided to visit Corsica and Sardinia. But i stayed for the whole time in Corsica. It is definitively a bikers paradise!
Formulars
When you are an european (EU) citizen you don't need much. Your driving license, your id card and registration paper is enough.
Ferry
I took the ferry from Livorno to Bastia. You can buy the ferry ticket near the harbor. It was a little bit tricky to find it.
But you can ask the people, they will help you.
Bike
No special preparations.
Immunization
No special immunizations.
The Trip
From Germany to Pisa
I started the trip directly after work and road the highway A5 down to Lörrach. Slept in a cheap hotel and the day after i crossed the alps through switzerland using the highway A2 to Busto Arsizio in Italy.
There i took a room via airbnb and the next day i traveld through the ligurian mountains to Genoa. Which was a very amazing day. I took the small roads through some national parks which where pretty amazing.
After realizing that i forgot my passport, i traveld down to Pisa. For this i took also the small roads through many national parks.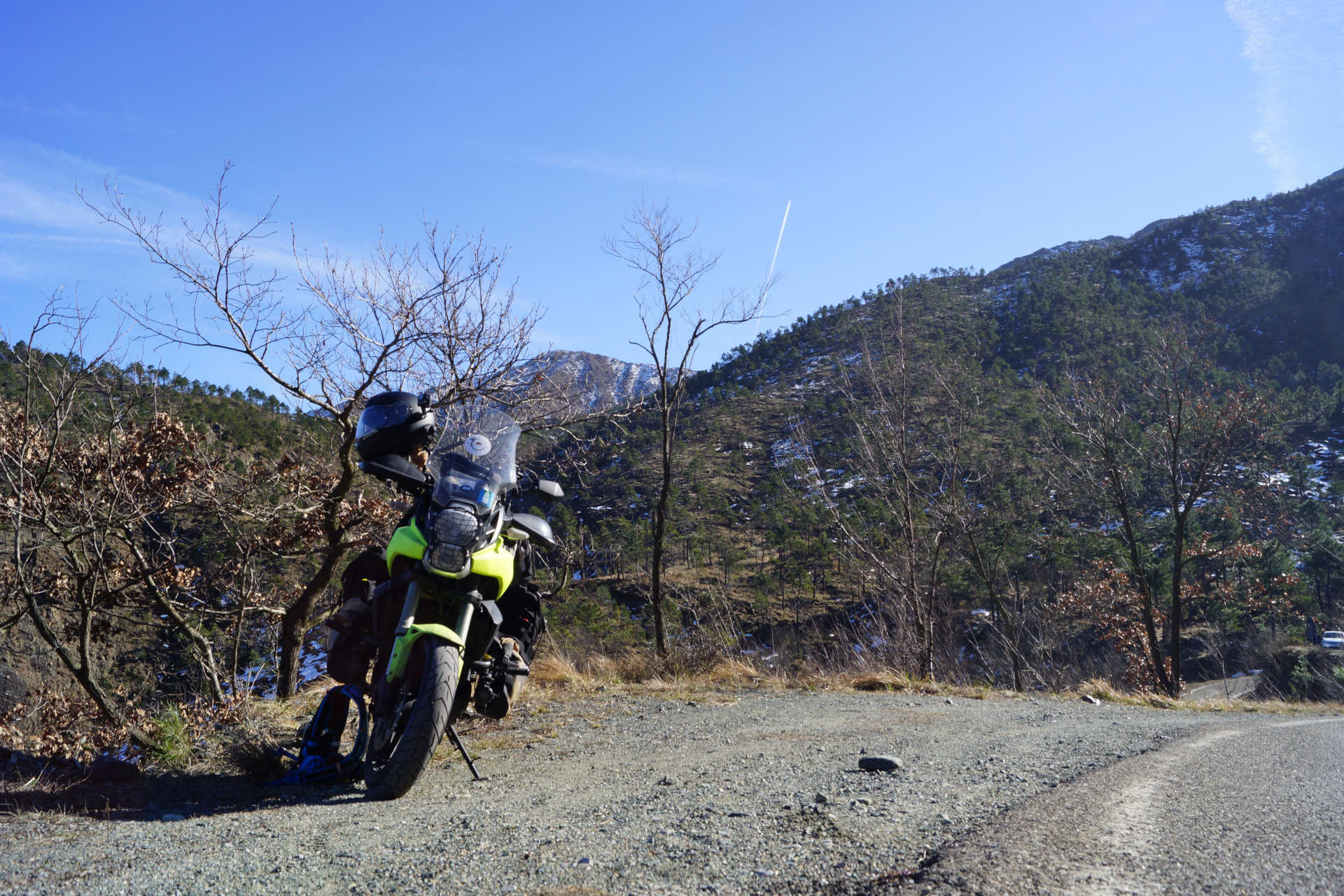 From Pisa to Bastia and Saint-Florent
The day after i took the ferry from Pisa to Bastia.
It took a little bit until i found the right building to buy the tickets. If you have the same issue, the gps coordinates are 43.555010, 10.302627
The boarding was uncomplicated and it took about 4 hours until i arrived in Bastia Corsica. I arrived late in the afternoon so i took a room via AirBnB and on the next day i started my trip arround Corsica.
From Saint-Florent to Monte Cinto
On this day i wanted to visit Monte Cinto and road some nice small roads towards it.
When i arrived there i wanted to go to a small parking for a little hike, but on my way back i droped the bike and broke the cooling reservoir.
So i had to call the road service to pick me up and bring me to a nearby motorcycle workshop to fix it. Luckily everything could be fixed on the next day.
From Corte to Gulf of Porto
The day before the road service took me to Corte which is a small city about 40km await from Monte Cinto. I had some luck and they found a workshop where they changed my cooling reservoir.
So, with a new (used) cooling reservoir i could continue my trip. Today i didn't rode too much because i wanted to make sure that everything is working as it should be.
So i took a hotel room in Ajaccio and on the other day i drove to the Gulf of Porto which is a UNESCO heritage site.
From Ajaccio to Solanzara
After visiting the Gulf of Porto i turned arround and started my way back. So i took some nice small roads through the mountains to Solanzara.
So if you ever visit Corsica with your motorbike, make sure to ride D268 this is a really amazing scenery.
From Solanzara to Bastia
On my last day i took some amazing small roads through the mountains again.
I think, every small road in Corsica is worth a ride. But sometimes you have to pay attention for some sand or small stones in the corners.