Population
35,740,000 (2017)
Currency
Moroccan dirham (MAD)
Language
Moroccan Arabic, Hassaniya Arabi, Berber, French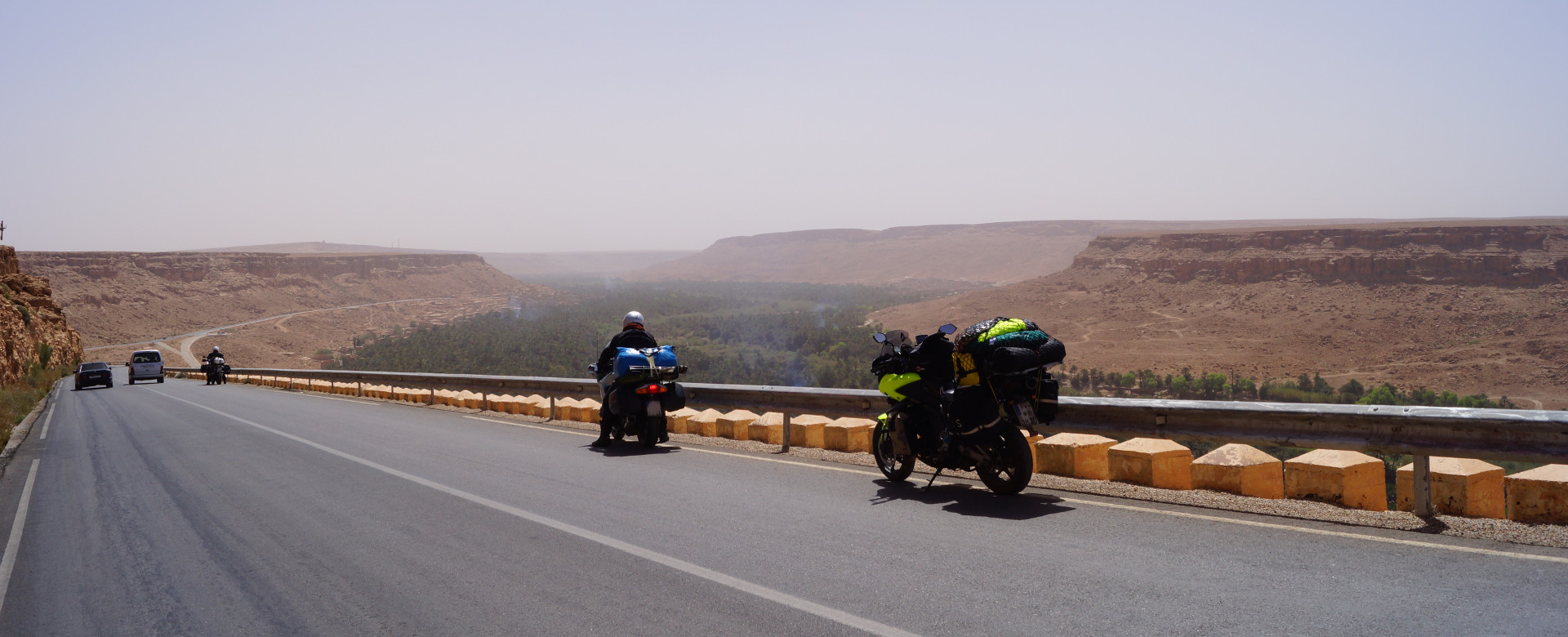 Preparation
Ever since i start traveling i wanted to visit an african country. Some years before i traveld to Gibraltar by car and from there i could see the morrocan coast. There I thought of just looking for a ferry to the other side but time was short so i decided to come back some time in the future. Years later i changed my car in favor of a motorbike and started to look around what things i need to enter morocco.
Formulars
It turned out that there is no special requirements. You just need a document for your motorbike or car, which can be downloaded online and prepared before the trip. Just make sure your motorbikes' insurance is valid for morocco.
If not, this is also no problem, you can just buy an insurance directly after entering morocco. During the whole trip (about 3 weeks) we came across many police checkpoints but they only stopped us once, because we hadn't stopped on a stop sign. They just told us that there was a stop sign, asked us from where we are and where we are going and whished us good luck.
We also had a small accident on a highway toll station. One car driver wanted to go through the barrier without paying, directly after one of us. He was too fast and hits the back of the motorbike. Nothing really happens and even the police didn't want to see the insurance. BUT it is always better to have one!
Ferry
We booked the ferry from Séte in France to Tanger Mediterane. But some weeks before the trip we all got a SMS saying that the ferry was canceled. So we decided not to book a new one and just go to Barcelona and take a ferry from there. This was no problem, we arrived in Barcelona on time and the booking and boarding procedure where no problem, only waiting.
Bike
So this was my first larger trip, so i read a lot about motorcycle trip on internet and tried to follow many advices. But as you can see on some pictures i had too much luggage with me. All in all it weight over 40 kg. We wanted to camp in morocco so i took my camping gear with me. Very warm military sleeping bag with a lot of volume, popup tent, cooking stove and much more.
We used our tents only once. The hotels in Morocco are very cheap and we felt more safe in a hotel. Especially we could park our bikes in a safe place.
So one advice if you want to visit Morocco, don't take too much luggage and you definitively don't need camping gear. You'll find hotels nearly everyhwere and also something to eat. Extra petrol is also not necessary.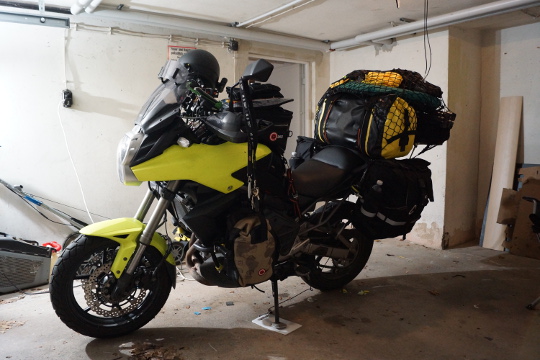 Immunization
If you want to travel Morocco the standard immunizations are a good choice. Anti-rabies is also one immunization you should consider. There where not much dogs at the streets, I've heard from some people that the moroccan goverment killed many wild dogs because of some sport events.
Always eat cooked food so the possibility to get some bad nights is lowered and take some medicine against diarrhea with you.
We traveld end of march and beginning of april, so at that time we also had not many mosquitos and the ones we saw where already dead on our windscreens.
The Trip
Off the ferry and waiting for the morning light
We arrived in Tanger in the early morning. The immigration process took some time but it was all pretty simple. You had to go to the police which checked your passport and after that to the toll. They ask if you have a drone with you (they are not allowed in morocco) and that is pretty much everything.
A lot of locals try to offer their help (the police sometimes chase them, because they are not allowed to be in this area). But don't think that the process will be faster if you hire someone.
After the immigration (it was about 4 o'clock) we looked out for a place to stay until the morning. We found one on a motorway station. They had a guard there and he also offered to have a look at our bikes.
In the morning we also bought some local sim cards there and drawn money from an atm.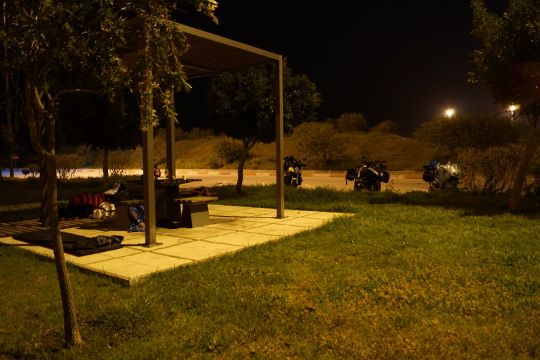 Tanger to Chefchaouen
The goal for day one was to go to Chefchaouen. This is a pretty nice road through the riff mountains. The riff mountains is an area where lot of hashish is grown. This is illegal but the police tollerate it. Sometimes the people are not so excited to see strangers driving along the road.
Usually people are very friendly, but in one town they throw stones at us and wanted to throw us from our bikes.
Chefchaouen was a pretty city, everything in many different blue colors. We found a good hotel there. After we arrived we took a walk through the city, eat something and enjoyed the scenic landscape.
Chefchaouen to Fès
The next city we wanted to see was Fès which is the 3rd biggest city in morocco. So we rode through an area which was told us to be the most dangerous part, but we always felt safe. People where friendly and helpful and mostly wanted to sell some own-build things or some fossils which was sometimes anoying.
Sadly there is no organized garbage collection, so you see garbage everywhere on the roadside. It seems that only bigger cities have some kind of garbage collection.
We found a hotel some minutes out of Fès and after arival we took a cab and a guide to visit the city. Fès has a lot of small roads and if you are not familiar with the system you might need a lot of time to find back to your cab.
Fès to Midelt
From Fès we start crossing the Atlas mountains with our first riding goal Midelt. Midelt is a small city in the mountains and you can visit 2 higher mountains in this area (Jbel Ayachi and Jbel Masker). There are daily tours starting in Tounfite.
The road through the atlas mountains is pretty good but it is along many long flat areas without any trees. So the wind where sometimes very strong.
From time to time you'll see sheep flocks and some little villages or just some houses on the side. But even if you think you are alone and take a rest, there will be someone around in 2 or 3 minutes trying to sell you fossils or other things.
The temperature can change pretty fast depending on your altitude. During our trip it ranges from near 0 on the highest parts of the road to 20 or more on the lower ones.
Midelt to Merzouga
The way from Midelt to Merzouga is also pretty good. On that way we also met some brave people riding their bicycles. The landscape didn't change much until we left the atlas mountains behind.
Merzouga is the last village (about 500 people living there) in front of the sahara desert. It looks like there are only hotels and no normal houses in Merzouga.
First we visited a place where James Bond Spectre was filmed and after that we searched a hotel. We found one directly in front of the great sand dunes and stayed for two nights there. On the other day we took a camel ride into the desert.
The desert has a spirit of its own which is hard to describe. You have to feel it yourself.
Merzouga to Agoudal and Todra Gorge
The other day we continued our trip towards Agoudal a small village in the atlas mountains. The landscape gets rocky again. On the way we saw some villages without any water channels to water the fields and others had good water supply. Sometimes it looks like it depends on the villagers itself and on their motivation.
The streets where quite good, so no problems for normal street bikes. Just be aware of some potholes (as everywhere in Morocco).
The road to Agoudal was the only time where i thought that i need my extra petrol. I forgot to refill in Tinghir and when i reached the next petrol station that i trust (there are some people selling petrol on the side, but i don't know the quality) i only had left less than 1 liter.
We stayed in a nice hotel near Tinghir.
Tinghir to Tazenakht and Dades Gorge
Actually we wanted to visit Dades Gorge the day before, but we missed a junction from Todra to Dades Gorge the day before so we decided to visit Dades Gorge today before we took the way down to Sidi Ifni.
It was an amzing ride through rocky valleys and small villages. I totaly love the colors from blue sky, green trees and grass and red/light/brown ground and rocks.
Tazenakht to Sidi Ifni
It took a little bit time to find a hotel near Tazenakht but after some searching we found a pretty good one. So the next day we had a good breakfast and started our trip to Sidi Ifni which will be the most southern part of our trip where we will stay in a hotel. After that we just wanted to visit the camel market in Guelmim and than turn around.
We took mostly highways on this route so the roads where very good. The landscape towards Agadir changed from less vegetation to more green with trees and fields.
We arrived in Sidi Ifni in the early afternoon and found directly a good hotel near the shore.
Sidi Ifni to Marrakesh via Tizi'n'Test Pass
We stayed for two nights in Sidi Ifni. Since yet we had no rain on the whole trip. The last night it had rained and so the streets where still wet and the colors where more intense. Everything looks greener.
We visited the camel market in Guelmim which is pretty interessting to see and hear. It is a really big market and you can buy everything from vegetables to sheeps and camels. Peopel coming from wide distances to sell their things.
If you ever visit morocco by motorbike you have to ride the Tizi'n'Test pass. The street is very twisty. Some parts of the street needs to get repaired but if there is no rain or snow it is no problem.
On the top of the Sidi Ifni pass you'll find a hotel "La Bellevue". They offered us their garage to park our bikes inside it. Very friendly people and if you are lucky they sing a few traditional songs for you.
Marrakesh was the only place where we had some trouble finding a hotel. It seems that there was a big events on that weekend so everything was booked. But at the end we find a good one.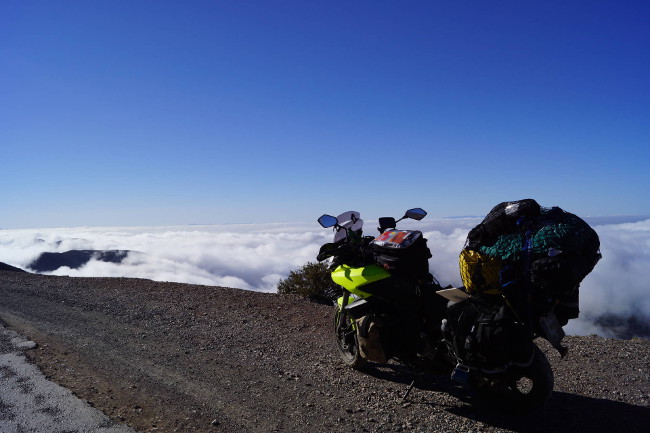 Marrakesh to El Jadida
The last interessting part of the trip was the way from Marrakesh to El Jadida. It was the first day with some rain. But the forecast said the the real rain will begin the next day. But that was okay for us, because El Jadida was the last station for us, after Jadida we just need to go back to Tanger and wait for the ferry.
We took a very nice coastal road which we choose because on the planed road the forecast said that it would rain. The decision to ride that coastal road turned out to be very good. Endless sandy beaches without any tourism. We only saw 2 or 3 beach hotels or ressorts on the way.
The way back home
It rained all the day from El Jadida to Tanger so we took the highway. The toll is very cheap but you have to pay with dirham. It is nearly impossible to pay with credit card.
We arrived in Tanger in the early afternoon and found a very nice hotel to stay. We had some days left until our ferry depart. But it rained the most time so we stayed most day in the hotel.
We took the ferry to Séte which stopped also in Barcelona.
I hope you liked the videos and the report. See you on the road and always ride safe.